WOW, what an amazing month of reading I have had! I have LOVED so many of the books I read this month, which is a great feeling.
Here's what I read in March:
The Fictional Woman (memoir)
Tara Moss
Tara Moss's part-autobiography, part-feminist-discourse draws together her life experiences and the experiences of women all over the world in a series of essays that are funny, heartbreaking, eye-opening and wonderful.
---
This lady is seriously inspiring – beginning her career as a model in her teens, she is now also a successful author, speaker and women's rights activist (and a hell of a lot more). Her first non-fiction book wraps her life in seamlessly with broader issues of women's rights, and I loved every minute of it. There were parts that were really eye opening, and parts that made me cry, and even a few famous names dropped in for good measure. I would recommend this book to anyone, but particularly to women, and extra-particularly to anyone who has ever classified Tara Moss as 'just' a model.
---
I Capture the Castle (fiction/young adult)
Dodie Smith
Seventeen year old Cassandra Morton lives in poverty with her eclectic step-mother, reclusive father and siblings in a rundown castle. When two eligible and rich young Americans move to the local village, Cassandra learns more than she bargains for about love, relationships and sacrifice.
---
A friend of mine recommended this book to me in highschool, and it's taken me this long to get around to it!! I really regret that now, because it is a truly wonderful book, and one that I am sure I will read again. I Capture the Castle is a coming-of-age story that combines romance, joy and sadness in a moving and very relateable way. As J.K. Rowling says on the cover, this book has one of the most charismatic narrators I have ever met.
The novel perfectly captured the beauty of the English countryside, and it was really quite pastoral. It also drew from that classic of English literature, Pride and Prejudice, in a beautiful way. I loved loved loved this book.
---
Stormbreaker (young adult/action)
Anthony Horowitz
Alex Rider is an orphan, recruited by MI6 to become their youngest secret agent. In his first mission, he must investigate the mysterious Stormbreaker computers that are about to be distributed all over Britain.
---
This book had been on my list for years as well – since my sister read it when she was young, and loved it. Although I didn't like the last Horowitz I picked up (Moriarty), I decided to give it a go anyway. I regret that now…
Look, the story was good (if a bit juvenile). Things like plot holes don't bother me too much in a good action yarn. However, the book was rife with barely veiled racism and misogyny, and that is something that I really can't get past, especially in a book for children.
---
A Game of Thrones (fantasy)
George R R Martin
The first volume in Martin's epic Song of Ice and Fire series introduces the Starks, the Lannisters, the Baratheons and the Targaryens in a struggle for power that draws in the entire land of Westeros. When you play the game of thrones, you win, or you die…
---
Gahhhhh this book is brilliant. I promised myself I wouldn't start the series again until the next book is out (when, oh when, will that be, George Martin??), but I failed. Thrones is everywhere these days, what with the wildly popular HBO series, and I just couldn't resist starting the series from scratch again.
I know a lot of people who have started A Game of Thrones because they have loved the TV show, and almost without exception, they have given up reading it. This is a LONG book, but it is so so so worth it. If you have a chance to read it before you see the TV show, please do! It will be so much more meaningful for you. And then we can talk about it together :)
---
Eat, Pray, Love (memoir)
Elizabeth Gilbert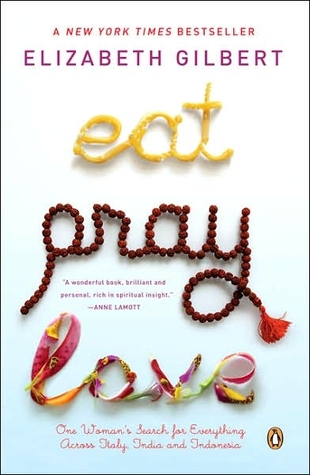 Elizabeth Gilbert tells the story of how she survived a devastating divorce and a long struggle with depression, finding herself through spending time in Italy, India and Indonesia to learn about pleasure, devotion and balance.
---
Now this is another tricky one. It's a great story, very easy to read. It would be the absolute perfect book for a beach holiday. However.
I did feel like Gilbert really toed the line in terms of cultural fetishisation (is that a word? WordPress doesn't think so). Just because something is different, doesn't necessarily make it better (or worse). Her descriptions of Bali as an idyllic paradise full of happy, balanced people hit a wrong note for me. I haven't been to Bali, but I'm sure it is full of people living their day-to-day lives and doing the best they can (like people all over the world do). I'm sure that the people of Bali are not living their day-to-day lives for the purpose of providing a spiritual getaway for privileged, rich white people who have the time, money and leisure to spend a year 'finding themselves'. Some of the generalisations made in the book (about Italy and India also) just really seemed a little facile, a little shallow (dare I say racist?) to me… Also, can you really say that you spent four months 'in India' when you lived in one Ashram the whole time? I mean, technically, yes, but really… ?
I'd love to hear other people's views on this book – how did you feel about it??
---
Burial Rites (fiction)
Hannah Kent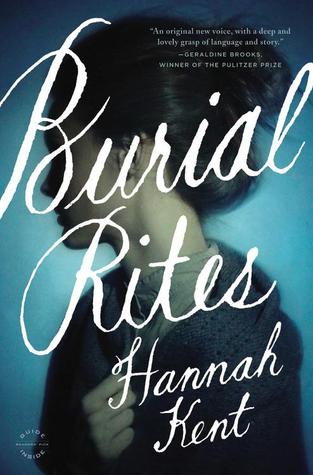 Burial Rites tells the story of Agnes Magnusdottir, the last person to be executed in Iceland. Waiting for her death sentence for murder to be carried out, Agnes is sent to live with a family on their isolated and lonely farm. Over the months, Agnes slowly challenges the family's vision of her as a monster.
---
I had pretty high expectations for Burial Rites, because it was nominated for so many awards (including the Stella Prize for women writers). It didn't disappoint on any count – it had suspense, true raw emotion and a huge amount of compassion. The story itself was riveting, and is largely based on true events. Even more impressive: it is Hannah Kent's first novel. I look forward to reading her next!